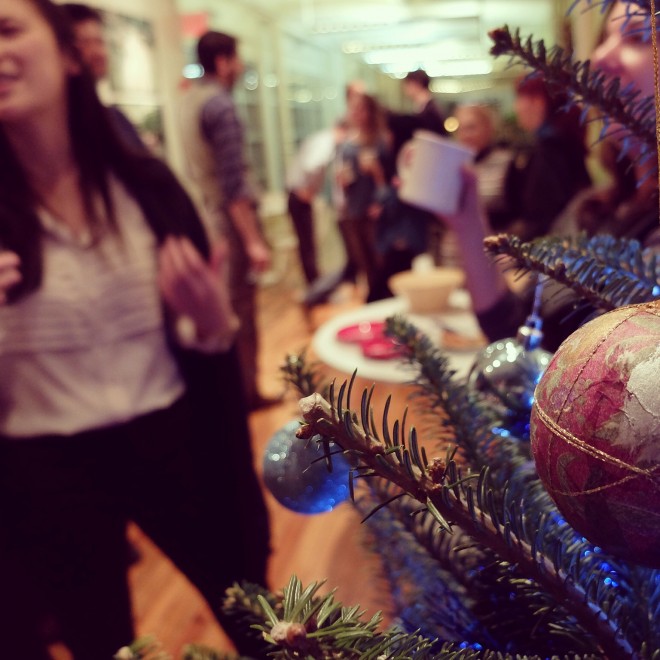 Last year saw quite a few exciting developments here at the PPS office. Not only did we give the website an overhaul and add Instagram to our list of social media platforms, but we also hosted dozens of interns and visitors from around the world, trained hundreds in public markets and Placemaking, and saw a myriad of diverse organizations coalesce around Place.
What will 2015 bring? Only time will tell… In the meantime, here are the ten most popular articles from the Placemaking Newsletter in 2014. Happy New Year, Placemakers! Here's to another exciting year of the Placemaking Movement.
By Linda Rutherford of Southwest Airlines | May 13, 2014
While there may not be a magic bullet to solve our communities' complex social, economic and environmental challenges, there is promising potential in a seemingly unexpected spot: public places. By taking a people-centric approach to creating and revitalizing our public places - neighborhood parks, community markets and downtown squares- we have the potential to truly transform the hearts of our local communities.
By Kelly Verel | March 20, 2014
Ever since freezers and preservatives freed us from the need to shop at food markets on a daily basis, the focus has shifted almost entirely to convenience, resulting in the proliferation of supermarkets and box stores both inside and near cities. In the process, food has been disconnected from the natural cycle of daily life. Market Cities are places with strong networks for the distribution of healthy, locally-produced food and other goods produced in local and territorial regions near cities - and Barcelona, the location of our upcoming 9th International Public Markets conference, may very well be the best example of this today.
By Matt Bradley | February 10, 2014
Robert Linn of the Southwest Detroit Business Association recently turned to the Placemaking Leadership Council's LinkedIn group for inspiration about how to transform some vacant lots into people-friendly spaces. Members offered up many creative suggestions, while sounding a common theme: the process is as important as the physical improvement.
4. Progress in Paris:
By Clemence Morlet, former PPS project intern | May 15, 2014
Every day, high-density global cities are home to millions of pedestrians in their streets. Paradoxically though, many streets and transportation policies have placed more space and importance on cars rather than people. Having experienced this for myself in Paris and New York City, I decided to compare the two: How do they support this large pedestrian population and decrease auto-dominance in public space?
By Stephane Kirkland, PPS Fellow | March 21, 2014
Paris is now a radically different place. Less than half of Parisian households own a car and those who do use them far less than the inhabitants of other cities. People have become attached to the quality of life that urban spaces designed as places, and not as conduits for traffic, allow. To be perceived as intending to take that away would be electoral folly for an aspiring Mayor.
By Project for Public Spaces | April 1, 2014
With New York's High Line heading towards the completion of its celebrated re-use of an abandoned elevated railroad, followers of parks and public space are wondering what's next. Friends of the High Line co-founder Robert Hammond, who left the group at the end of 2013, has shared with us the fast evolving conceptual plans for the next phase of the park - a proposal to bring the High Line across the Hudson, and eventually across America.
By Nick Broad of The Busking Project | August 18, 2014
In 2011 I went to forty major cities in thirty countries on five continents to film street performers. We went to a new city every week. Traveling like that – seeing so many cities in such a short time – it doesn't take long to start to feel that city centres are nothing but a tool set up to help people get from point A to point B via a Starbucks. Only one thing continued to stand out: the buskers.
7. Walking as the Way Forward:
By Jay Walljasper, PPS Fellow | Part one: October 10, 2014; Part two: October 15, 2014
More than 4500 pedestrians are killed by motor vehicles every year on the streets of America--more than those who died in the horror of 9/11. "It's like an airplane falling out of the sky every other day. If that actually happened, the whole system would be ground to a halt until the problem was fixed," notes Scott Bricker, Executive Director of America Walks, a coalition of walking advocacy groups. "We need to address this terrible problem with the same urgency."
In light of these findings, it's scary to realize that traffic on many if not most American roads travels closer to 40 mph than 20 mph. Here's a few of practical steps to slow speeds, deter distracted driving and help make walking a safer, comfortable and enjoyable experience for everyone. This is where Vision Zero hits the road.
By James Rojas of PLACE IT! | March 5, 2014
Latino Placemaking goes beyond creating great public spaces. It also includes cultural identity, which is shaped by needs, desires, and imagination. The Latino quest for cultural identity parallels the African-American Civil Rights Movement of the late 1960's and early 1970's, which has its genesis in protests - many of which were carried out in public spaces.
By Matt Bradley | February 11, 2014
Widely read articles published recently in The New York Times Magazine and The Guardian affirmed the importance of detailed observation and measurement tools developed by PPS for analyzing public spaces and update their application to the digital age. Both stories highlight the contemporary relevance of methodologies developed four decades ago by William "Holly" Whyte, a sociologist, journalist, and mentor of the founders of Project for Public Spaces.
By Philip Winn | September 26, 2014
At first glance, a Google image search for the term "Detroit" returns an alarmingly one-sided portrayal of the Motor City. Photographs of crumbling buildings dominate so much that other parts of the story - a Tigers game, a skyline view, a Diego Rivera mural - fade into the background. Scroll a bit further and one image breaks through the monotony - a beach.