Places, like many things, go through cycles—and even the grandest of public spaces can wind up looking a bit worn and forlorn. Last month, PPS's Fred Kent, Gary Toth, and Kathy Madden traveled to the wonderfully bucolic community of Dún Laoghaire, Ireland, to conduct one of our How to Turn a Place Around training workshops. The area between Dún Laoghaire's waterfront and high street is picture-perfect at first glance, but the 30 workshop participants quickly identified many underlying flaws. Led by the PPS team, these locals recognized assets that together represented a "gold mine" of Placemaking potential, and developed some wonderfully creative ideas for knitting together the area's public spaces to create a truly extraordinary destination.
Dún Laoghaire, a suburban seaside town about 7.5 miles south of Dublin along Dublin Bay, has long been nourished by its access to the sea—first as a sea base for Ireland to carry out raids on Britain and Gaul, and later as a commercial shipping center. In 1821, Ireland decided to build a harbor here due to increasing difficulty for ships to navigate, berth and transfer cargo along the River Liffey in Dublin (at one point, shipwrecks rose to literally hundreds per year off the coast). As a result, a new town center developed uphill along a former military road, and came to be called George's Street. Ireland's first railway started in Dublin and terminated in Dún Laoghaire (then called Kingstown), establishing Dún Laoghaire as a preferred suburb of the capital. Ever since, the fortunes of the town's waterfront and its high street have been tied together.
Dún Laoghaire was one of the Irish centers that began to experience decline when Ireland accelerated its construction of big freeways like the M11 and the M50 in the 1990s (just a few decades after the same strategy destroyed Main Streets across the US). George's Street now suffers from over 30 vacancies along its length. The street was briefly pedestrianized at the start of the new millennium. Due to shop owners' complaints and a lack of a sufficient revitalization of the street, one way traffic was restored in 2008. The waterfront has, similarly, lost a lot of its luster. Elements like the public baths, which flourished until 1997, are no longer functioning; some are falling into disrepair.
How to Turn a Place Around (HTTAPA), which is designed to enhance the impact of designers, planners, and other professionals by illustrating how their efforts to revitalize public spaces can strengthen existing communities, got a few tweaks for its first Irish audience. The course included a session on Streets as Places and a Street Audit. The focus was on George's Street and a parallel strip of the harbor between the East Pier and City Hall, an area that provides a solid foundation for a great waterfront district, but that faces a lot of challenges. HTTAPA focuses on the idea that, because people are holistic thinkers and see their world in an integrated way, engaging the people who live and work in a space is the best way to turn everything upside down, and take places from inadequate to extraordinary.
On the first afternoon, the attendees evaluated six distinct sites in the downtown area of the waterfront via a process we call the Place Game, which helps attendees to better understand these sites and the connections between them from their own perspective. The sites included: Carlisle Pier and its entrance area; entry areas in front of the East and Ferry Terminal Piers; the Pavilion, a newer public space created when the airspace over the train line to and from Dublin was covered over and landscaped; and a plaza alongside the new library, currently under construction.
Kent, Madden, and Toth guided participants through the Placemaking process, helping them to identify challenges and brainstorm a range of solutions, from short-term, inexpensive fixes that could start to change the way that other residents of Dún Laoghaire thought about the waterfront and start building local momentum immediately, all the way up to creating a long-term vision for the area.
On the following day, participants conducted a Street Audit at five sites—three along Marine Road and two on George's Street. Guided by the Streets as Places concept and observation of these sites, the team came to understand the important role that streets could play in knitting together the various destinations within the vibrant downtown district that they'd imagined. The broad corridor of Marine Drive was identified as a critical lynchpin in their vision, as it represents the greatest opportunity for linking George's Street to the waterfront.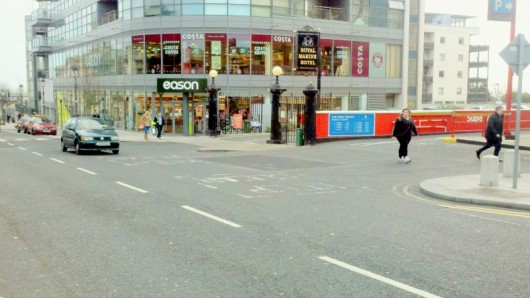 Below, we've mapped the ideas that were generated for central Dún Laoghaire during the HTTAPA training. If you are working on a public space project in your own city, take a look—and if you're interested in learning more about the Placemaking process and the various strategies and concepts behind creating a great place, you're in luck! We often hold training sessions in other locations on a case by case basis, or in-house biannually.
View How to Turn Dún Laoghaire Around in a larger map
MAP KEY DARK BLUE AREAS: Sites analyzed on during the waterfront Place Game evaluation LIGHT BLUE AREAS: Sites analyzed on the second day of HTTAPA through PPS's Street Audit process PINK LINES: Existing streets and paths that need to be re-engineered to restore balance & re-thought via the Placmaking process YELLOW LINES: New paths that could be engineered to improve connectivity throughout the downtown