New York, NY (1975)
When we were first getting PPS off the ground, Rockefeller Center, Inc. (RCI) gave us office space at no charge. In return, PPS advised RCI's Real Estate Marketing Department on ways to improve street level public spaces and the underground concourse of Rockefeller Center.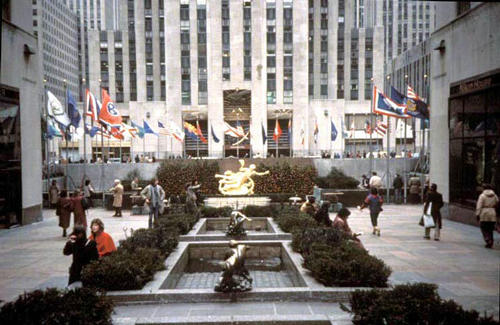 Our first challenge was to legitimize the act of sitting. People were sitting on the ledges, damaging the yew trees planted behind them, and Rockefeller Center's managers wanted this activity to cease. RCI asked us to determine which type of spikes to install on the ledges in Channel Gardens, which is the linear plaza that connects Fifth Avenue to the Skating Rink. This request perfectly symbolized the obstacles PPS would encounter in the years ahead. Before we could turn the place around, we first had to change the mind-set of the owners. We had to convince them that having people stop and sit in their public space was not a problem but an asset.
Holly Whyte's wise advice served us well: "People sit where there are places to sit."
Fortunately, our research helped make the case for seating, not spikes. We had recently received a donation of two double-sided benches with planters from the Rosenwach Company (manufacturer of the wooden water tanks that sit on office building roofs throughout New York City). After placing them in slightly different locations on Fifth Avenue, we studied how each one functioned. We also closely observed the only other benches on Fifth Avenue at the time -- a circular bench in front of Elizabeth Arden salon and a planter with a small bench in front of the Lord & Taylor department store. Using time-lapse film, we observed where, when, and how people used the benches.
In the end, Holly Whyte's wise advice served us well: "People sit where there are places to sit." We took a leap and recommended that Rockefeller Center put benches in front of the planters so that people could sit down without harming the yews. If people could sit comfortably, we reasoned, they would use Rockefeller Center's many shops and services more frequently -- improving the image and profitability of the entire complex.
The benches indeed made Channel Gardens a more active place. Seeing the benefit of attracting people to their property, RCI removed the yews and replaced them with horticultural and art displays that change 11 times per year. The entire area soon became a destination. The ground floor spaces near Channel Gardens--previously occupied by banks and travel agencies--were filled by high-profile tenants including NBC's Today Show, the auction house Christies, the Metropolitan Museum Store, and Dean and Deluca grocers.
Thanks to this initial success, RCI asked PPS to look at the mini-park behind the Exxon Building--a new part of Rockefeller Center built in the 1970s. By making the park an inviting place for people to sit and eat lunch, we helped create another asset in Rockefeller Center and further solidified RCI's role as a provider of public space. Today, even the terminus of Channel Gardens--where the Christmas Tree stands each year--has been developed as a public space with benches, a Friday Farmers Market, and many different types of exhibits and events.
Across the country, commercial developers have learned from the example of Rockefeller Center. We can look back with pride at the influential role we played in changing business attitudes toward managing public spaces.