60 of the World's Great Places
These are the places we remember most vividly, the places where serendipitous things happen, the places we tell stories about. They are decidedly local, but can also absorb a fair amount of tourism with out losing the qualities that make them great. Though none of these places could be replicated anywhere else, there is an infinite amount we can learn from each one.
Open a full profile for each Great Public Space by clicking on their respective titles!
Help fill in details for the profiles by filling in our Nomination Page or leaving comments.
Inspired by this list, Jay Walljasper recently wrote for Ode Magazine on Our place in the world - in praise of streets, parks, squares, coffeeshops, and other beloved hang-outs...
Al-Azhar Park Cairo, Egypt
A new hilltop park in the midst of one of Cairo's most interesting neighborhoods.
Art Street Taichung County, Taiwan
A shopping street that makes excellent use of traffic calming measures to keep pedestrians happy.
Arts Centre Christchurch, New Zealand
An arts district rich in Gothic architecture featuring theatres, cinemas, galleries, crafts shops, cafes and weekend markets.
Asafra Beach Alexandria, Egypt
"Alexandria is Asafra", insist locals about this beach that runs parallel to the city's main street.
Balboa Park San Diego, California, USA
Splendid city park and home of the internationally-known San Diego Zoo.
Bleecker Street New York City, USA
The capital of American Bohemia, this street filled fascinating small shops and cafes is a pleasure to stroll.
Cai Rang Floating Market Can Thao, Vietnam
Just like it sounds, vendors sell food, flowers and more from their boats on the Mekong River.
Cathedral of Notre Dame Paris, France
Not just stunning Gothic architecture, but marvelous park, plaza and gardens for people to gather.
Campo Santa Margherita Venice, Italy
This neighborhood square is a slice of the real Italy amid all the tourist shrines.
Carmel Market Tel Aviv, Israel
It remains a popular place in a city fearful of public gatherings.
Chandni Chowk Old Delhi, India
An amazing array of attractions on a street that is the spine of one of the liveliest districts in the world.
Charles Bridge Prague, Czech Republic
A beloved gathering point that offers great views of the city and a scene in itself.
Circular Quay Sydney, Australia
A great place to watch boats, sunsets, and an even better place to watch people - also home to the Sydney Opera House.
Country Club Plaza Kansas City, Missouri, USA
The world's first (1922) and probably best shopping center built to accommodate the auto.
Covent Gardens London
An open market hall surrounded by popular pedestrian streets, Covent Gardens is one of the world's leading venue for street performers.
Fez Souk Fez, Morocco
Souks (street markets) are the classic form of public space throughout the Arab World. The Fez souk is a glorious maze that you'll be delighted to become lost in.
French Quarter New Orleans, USA
Colonial Spanish architecture, great New Orleans food and jazz, plus the highest concentration of colorful characters in the whole USA
Gamla Stan Stockholm, Sweden
Stockholm's charming old town with some streets so narrow some broad-shouldered people need to walk sideways.
Gouda Historic Center Gouda, Netherlands
A charming beyond-belief pedestrian district of squares, canals, bridges, guild houses, and small shops.
Grand Central Station New York, USA
A palace of a train station - the number one meeting place in North America.
Grand Square Krakow, Poland
The largest medieval square in Europe - and many say the loveliest - it's been the hub of local life since the 13th Century.
Granville Island Vancouver, Canada
An industrial wasteland revived by parks, arts centres and a fabulous public market.
Great Mosque of Djenne Djenne, Mali
An inspiring 1907 mosque hosts a multi-ethnic market in the oldest known city is sub-Saharan Africa.
Greenmarket Square Cape Town, South Africa
A cobblestone square in the center of Cape Town where browsers comb through displays of traditional African crafts, curios and clothes.
High Park Children's Garden Toronto, Canada
A modest organic garden that is the pride of the local neighborhood
Imam Square Isfahan, Iran
One of the most breathtaking squares in the world.
Kyojima Tokyo, Japan
An old-fashioned neighborhood with a deep sense of community and very walkable environs.
Las Ramblas Barcelona, Spain
A series of pedestrian boulevards that came to life in the post-Franco era.
Luxembourg Gardens Paris, France
A small square with so much to do - the gold standard by which to measure all urban parks.
Mbare Market Harare, Zimbabwe
You can find it all here - vegetables, plumbing supplies, thumb pianos, ceremonial herbs.
Mercado del Puerto Montevideo, Uruguay
A beloved market hall specializing in many varieties of meats.
Moscow Subway Moscow, Russia
Built in the 1930s to showcase the glory of Soviet Communism, the stations are works of art with marble, chandeliers, and stunning art deco designs. The system is still the transportation lifeblood of the city.
Muslim Quarter Kunming, China
One of the many threatened Muslim districts throughout China, this corridor is the cultural and economic crossroads of the city.
Temple Night Market Kowloon, Hong Kong, China
A mile of practically anything you'd ever want to buy.
O'Connell Street Ennis, Ireland
A world-class main street that teems with activity all hours of the day.
Ortaköy Square Istanbul, Turkey
A small waterfront square on the Bosphorus recently rehabilitated with numerous cafés, restaurants, art galleries and artisan shops.
Plaza Julio Cortazar Buenos Aires, Argentina
A square surrounded by cafes and art galleries in one of the hippest neighborhoods in the world.
Pearl District Portland, Oregon
An almost new neighborhood on vacant land downtown that shows we can still build great neighborhoods.
Petaling Street Kuala Lumpur, Malaysia
The bustling heart of Kuala Lumpur's Chinatown.
The Plateau Montreal, Canada
A quaint working-class quarter transformed into the artistic and cultural hotbed of Quebec.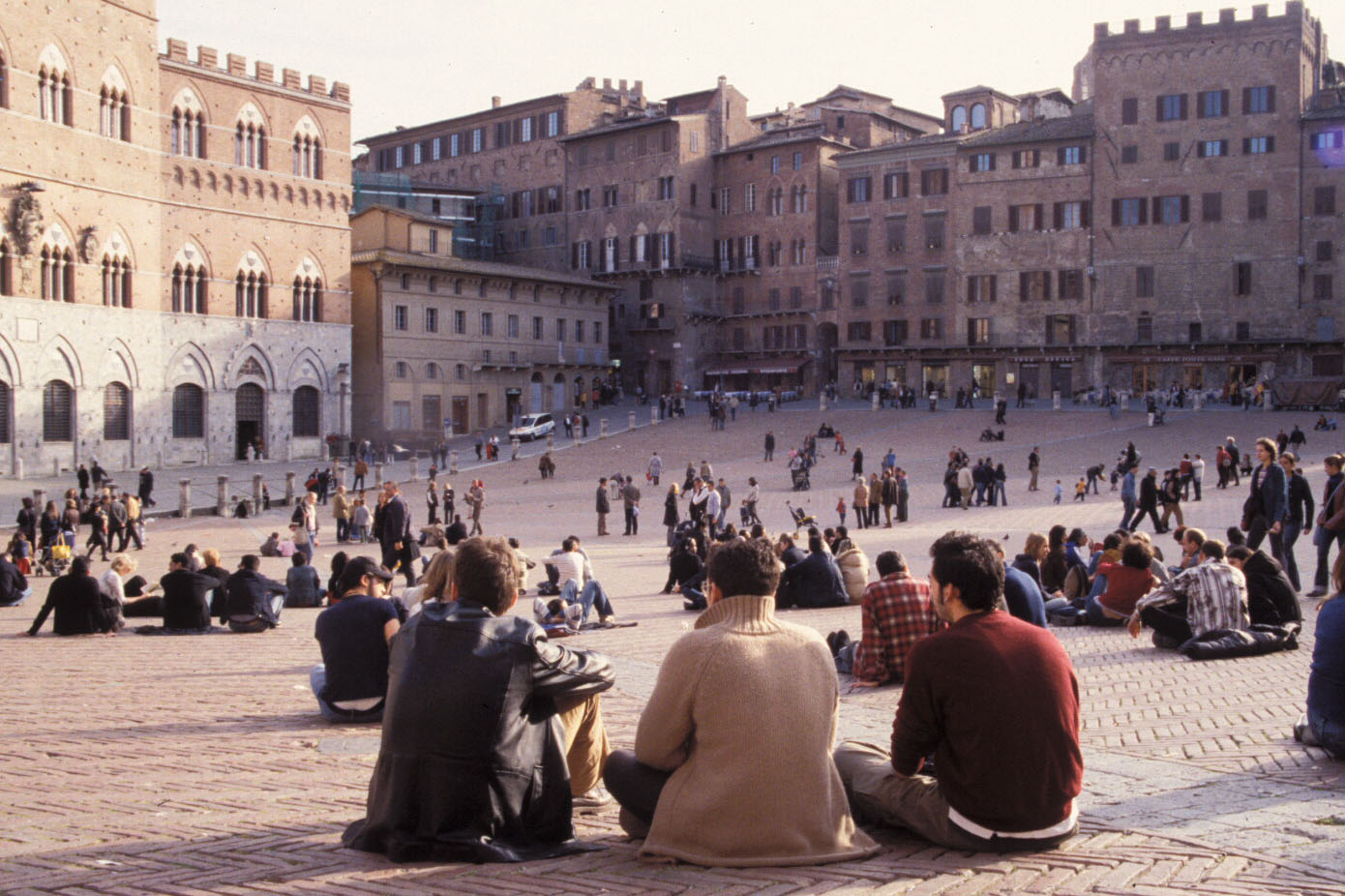 Piazza del Campo Sienna, Italy
An artistic triumph of Reniassiance architecture, and one of the first squares in Europe to chase the cars out.
Platia Kapodistriou Nafplio, Greece
This is the place for dinner, a soccer match or , most importantly, an after-dinner stroll to see everyone in town and catch up on the gossip.
Plaza de Armas Cuzco, Peru
The delightful historical center of charming city.
Plaza de la Constitution de Oaxaca Oxaca, Mexico
A 500-year-old square that is the heart of this much-loved city.
Ponce City Center Ponce, Puerto Rico
A graciously preserved showcase of Caribbean culture.
Prado Havana, Cuba
A marvelous 10-block promenade with terrazzo paving and plenty of shade in Old Havana.
Royal Mile Edinburgh, Scotland, UK
A cobblestone road leading up to Edinburgh Castle surrounded by a fascinating maze of alleys.
The Ridge Shimla, Himachael, Pradesh, India
A beautiful central square overlooking the city and looking out on the Himalayas.
The place to see and be seen in the Eternal City.
Staples Street Bus Station Corpus Christi, Texas, USA
A modest bus transfer centre that brought downtown life back to this small city.
Stone Town Zanzibar, Tanzania
This district is home to the Fordhani waterfront market, where people have been gathering for generations to eat fish fresh off the boat.
Taos Pueblo Taos, New Mexico, USA
A high-rise adobe town that's been home to Native Americans since at least the 1500s.
Tamansari Water Castle Yogyakarta Indonesia
An 18th century water garden that's the centerpiece of a dynamic neighborhood.
Theatro Municipal Rio de Janeiro, Brazil
A beloved opera house opens onto to a city square as lively and diverse as Rio itself.
Tivoli Gardens Copenhagen, Denmark
The never equaled ancestor of all theme parks, it has been a source of pleasure to happy visitors since 1843.
Trg Bana Jelacica Zagreb, Croatia
This vibrant square, adjacent to the wonderful Dolac Market, is the center of action in Croatia's greatly underrated capital city.
Vietnam Veterans Memorial Washington, DC, USA
A rare oasis of reflection and emotion in a harried world.
Viktualienmarkt Munich, Germany
An open air markets with one of the world's great beer gardens.
Waterlooplein Amsterdam, Netherlands
A world-class flea market.
Westhafen Subway Station Berlin, Germany
The scene of an international public art project devoted to human rights.